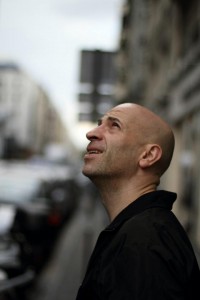 Nicholas G Frank is a writer and spoken word performer. He grew up in Melbourne and loves it there, however he would be quite happy to move to San Francisco, Barcelona or Zanzibar.  After fifteen years teaching, he found himself a little more excited telling stories than teaching about particle theory and geometry. So he left.
Nicholas advocates the view that humans are works in progress until death. Consequently he is continually excited by how much he has yet to learn and thinks that this will mean he is living for a long time.
Nicholas's stories have appeared in anthologies including banQuet 2011 and banQuet 2012 and Little Raven 2 & 3.
He's easily distracted and his monkey mind often needs a slap to quieten down. His favourite 'slaps' usually involve a pash and or – a dance floor. Nicholas is inclined to be Frank.
Nicholas will be appearing on our Hot, Spicy and Queer Erotica panel. You can hang out with him at our Meet the Authors Afternoon Tea and he will also be doing a reading at our Saturday Night Queerbaret.