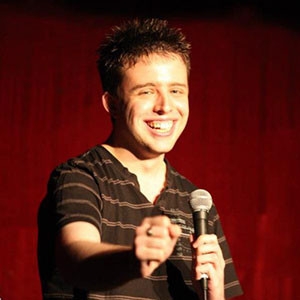 "One fateful day during the July of 1990, Ryan Etherington led a daring one-man strike force, and successfully broke out of his mother's womb…
Ryan Etherington is a nerds nerd. He's played Dungeons and Dragons, once beat Pokemon (all of it) and even attempted applying for Mensa (which he failed horrifically). He also attempts to get the house and experience this 'social' thing people keep raving on about. Sometimes he succeeds, sometimes he fails, sometimes it goes cataclysmically wrong; But he's always got a humorous story to come out of it, as well as bringing with him the stories, observations and self-critising moments all witnessed by his nutty mind.
Ryan is a RAW Comedy 2011 State Finalist, and performed his first Adelaide Fringe Show 'Chivalrofl' in 2014 before moving to Melbourne to continue his comedic journey.
"Ryan Etherington is one of those unlikely heroes you can't help but like… hilarious anecdotes" -Heckler
"Uproarious laughter" -Buzzcuts
"Etherington is one to watch" –

Sunday

Mail"
Ryan will be hosting the Saturday Night
Queerbaret
, and will most likely be getting a bit of stand up in amongst all the standing up and talking about other people.