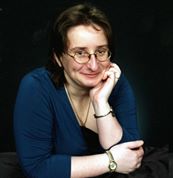 Alison discovered a talent for editing when her health prevented her from working on a regular, scheduled basis. Since May 2010, she has have worked as an Editor, Editor in Chief, and Acquisitions Editor, and currently works as an editor (content/body and line/copy) both for Fireborn Publishing and on a freelance basis. She also write reviews for Top 2 Bottom reviews in an attempt to give back to the industry and lower her monthly expenditure on books, which her sister, who she lives with, thinks is far too high. As well as meeting up regularly with fellow MM readers in Melbourne, she is a semi-active part of AQRM (Australasian Queer Romance Meets).
Her reading habits are extremely varied, although at the moment she is mostly focused on the M/M genre and has recently begun to enjoy F/F and trans*. If you put a book in front of her, no matter the genre, it is almost certain she will at least take a look at the blurb. If pressed for an answer, she would say her favourite genres are science fiction, paranormal, futuristic and fantasy.
Alison will be representing Fireborn Publishing at the Meet the Publishers Afternoon Tea on Sunday.
You can find Alison on Facebook, Twitter @AToddMann, and on LinkedIn.