A lot of people work hard to bring Queermance from a shared idea to a series of events you can actually attend. In 2015 Queermance incorporated as a not for profit organisation, becoming Queermance Inc. Please meet some of the organisers below.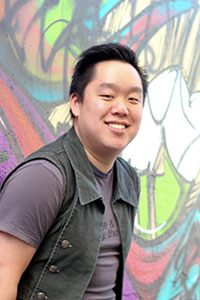 MATTHEW LANG – CO FOUNDER AND QUEERMANCE TREASURER
Matthew Lang writes behind a desk, in the park, on the train, and sometimes in bed if the mood strikes. He has been known to sing and dance in public, analyse the plots of movies and TV shows, and say 'Yes I can totally do that' without really thinking things through. If you ask him why he founded the Queermance Writers' Festival in 2014 with Isabelle Rowan, he'll probably tell you it was one of those moments. When not writing, working or gaming, Matthew likes his men hot and spunky, his mysteries fantastical, his fantasies real and his vampires to combust when exposed to sunlight. You can find out more about Matthew at his website, and you can also find him on Facebook and Twitter. Matthew is the author of The Secret of Talmor Manor, The Way You Are, and has a range of short stories available online, including Mr Perfect, Inheritance and Screens, which you can find at Amazon.com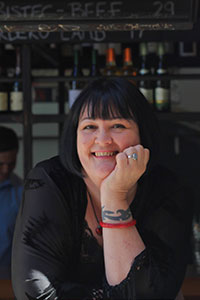 ISABELLE ROWAN – CO FOUNDER AND QUEERMANCE PRESIDENT
A slinky cat for a witch may be a cliche, but add a whole bunch of tribal tattoos, an aversion to sunlight and an intolerance to garlic (seriously) and you have Isabelle Rowan.
Having moved to Australia from England (Gateshead) as a small child Isabelle now lives in a seaside suburb in the south east of Melbourne where she teaches film making and English. She is a movie addict who spends far too much money on travelling … but then again, life is to be lived.
BECK MITCHELL- QUEERMANCE SECRETARY 
Beck Mitchell  is an irreverent middle-aged woman with an extremely warped sense of humour and an inability to sit still. She is a mother, an author and now, a minion for all things literary. With a penchant for reading erotic romance and out-of-control caffeine addiction, you can usually find her bouncing around, sprinkling fairy dust and joie de vivre … unless it's before her first cup of coffee … In that case she bears a startling resemblance to Voldemort and should be approached with caution.
She can also be found via facebook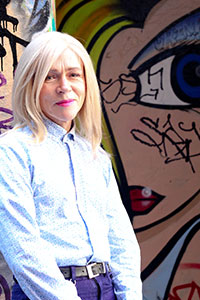 AMANDA MARX
Amanda Marx is a painter, writer and spoken word performer. Amanda appeared in the nationally televised – No To Homophobia campaign in 2013. Her inaugural exhibition of abstract expressionist symbolist works at Gasworks Arts Park as part of Midsumma 2013 was a sell out. The large format, acrylic and mixed media works on canvass are emblematic of mankind's search for wisdom across the ages – a meditation on the philosophy, literature, spirituality, art and science of the dreams & imaginings of – 'man's sacred fascination with man'. (Seneca)
Amanda's writing focuses on the biographical and anecdotal with a heavy-handed dose of romantic anarchism. She is addicted to Onegin/Pushkin Sonnets, a stanza of which bookends her shortlisted – Ada Cambridge Biographical Prose entry – 'One Perfect day'.
Amanda has worked as a dish pig, mountain guide, disability services facilitator and Collins St suit. When she grows up she plans to be a benevolent beered-up dictator.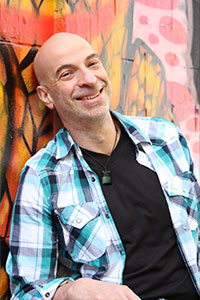 NICHOLAS G FRANK
Nicholas G Frank is a writer and spoken word performer. He grew up in Melbourne and loves it there, however he would be quite happy to move to San Francisco, Barcelona or Zanzibar.  After fifteen years teaching, he found himself a little more excited telling stories than teaching about particle theory and geometry. So he left.
Nicholas advocates the view that humans are works in progress until death. Consequently he is continually excited by how much he has yet to learn and thinks that this will mean he is living for a long time.
Nicholas's stories have appeared in anthologies including banQuet 2011 and banQuet 2012 and Little Raven 2 & 3.
He's easily distracted and his monkey mind often needs a slap to quieten down. His favourite 'slaps' usually involve a pash and or – a dance floor. Nicholas is inclined to be Frank.
LINDY CAMERON – PUBLISHER OF THE QUEERMANCE ANTHOLOGY
An independent publisher and crime writer, Lindy is author of the trilogy
Blood Guilt
,
Bleeding Hearts
and
Thicker Than Water
, featuring lesbian PI Kit O'Malley; the mystery adventure
Golden Relic
; the (subtext) action thriller,
Redback
; and the sf crime
Feedback
. She's also co-author of the true crime collections
Killer in the Family
(with her sister Fin J Ross); and
Women Who Kill
(with Ruth Wykes).
Lindy is a founding member and National Co-Convenor of
Sisters in Crime Australia
, and the Publisher of
Clan Destine Press.
Lindy and Clan Destine Press are the proud publisher's of the Queermance anthology