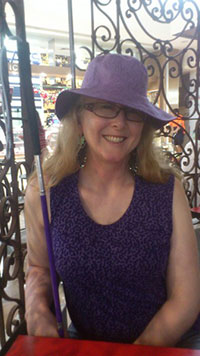 My first memory of reading was whining at my father who wanted me to read the same non-fiction book AGAIN. (How many times can you read about logging trees without becoming bored, even aged four?) One day I was tagging along behind my father and one of my step-mothers and discovered a large hardcover book of poetry in a corner store; imagine my surprise when my father bought it for me! My most-loved poem was 'Triantiwontigongolope' by C J Dennis, probably triggering a love of fantasy.
My earliest memory of SF was hiding behind my uncle's chair terrified but unable to look away from the TV during Dr Who.  By the time I was ten yeas old, my mother lent me adult SF books to stave off boredom.  Nothing much has changed since then, except gaining a few kilos and a few wrinkles.
There are two certainties in life: death and the taxation officer. I used to be one of them. I loved working in tax so much I left with a dream of helping dysfunctional people by becoming a counsellor. My journey to my new career included study: now I hold three degrees including a Master of Social Science. I worked with disadvantaged people as a counsellor and educator until disability discrimination ended that career.  Now I work my butt off for Dark Matter Zine as well as being awarded all distinctions and high distinctions in the Professional Writing and Editing degree at RMIT.
I was invited to join the merit-based Golden Key International Honors Society after receiving various accolades for academic excellence including a Chancellor's award. I won the Dawn Slade-Faull Award 2008, the Chronos Award for Best Fan Writer 2013 and I've been shortlisted for various Ditmar and Chronos Awards.
Nalini Haynes's interviews, reviews and other writings — The ones I remembered to categorise, anyway.
Nalini will be attending our Meet the Publishers Afternoon Tea.