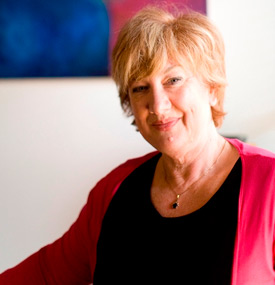 An avid reader (who read under the bedclothes and in the bath), as a young girl, Hazel Edwards wrote her first novel in grade six, a mystery about adventurous children stuck in a mine. This passion for writing and character development continued and after working as a secondary school teacher, at twenty-seven, Hazel published her first novel, 'General Store', a book based on life in a rural town.
It is Hazel's third published work however that is her most well known, the children's picture book classic, 'There's a Hippopotamus on Our Roof Eating Cake'. This special imaginary friend has been cherished by children and parents alike and led to the dubious honour of Hazel often being referred to as 'the Hippo Lady'.
However it is Hazel's book, f2M: The Boy Within, co-Authored with family friend and transgender author Ryan Kennedy that brings Hazel to Queermance.
"Tick the box. M or F. Male or Female are the only options 'ordinary' people know about. M for Male. F for Female. You're one or the other. But what if you're not? Like me. As I'm finding out."
Hazel will be appearing on our A for Asexual – Queer Identities panel, and she will also be talking about f2M: The Boy Within in her Sunday Workshop: Non-Boring Collaborative Writing. You can also meet her at our Meet the Authors Afternoon Tea and get her autograph at our Sunday Night Author Showcase.
Available via: Ford Street Publishing and Hazel's Website as paperback editions. It is also available as an ebook