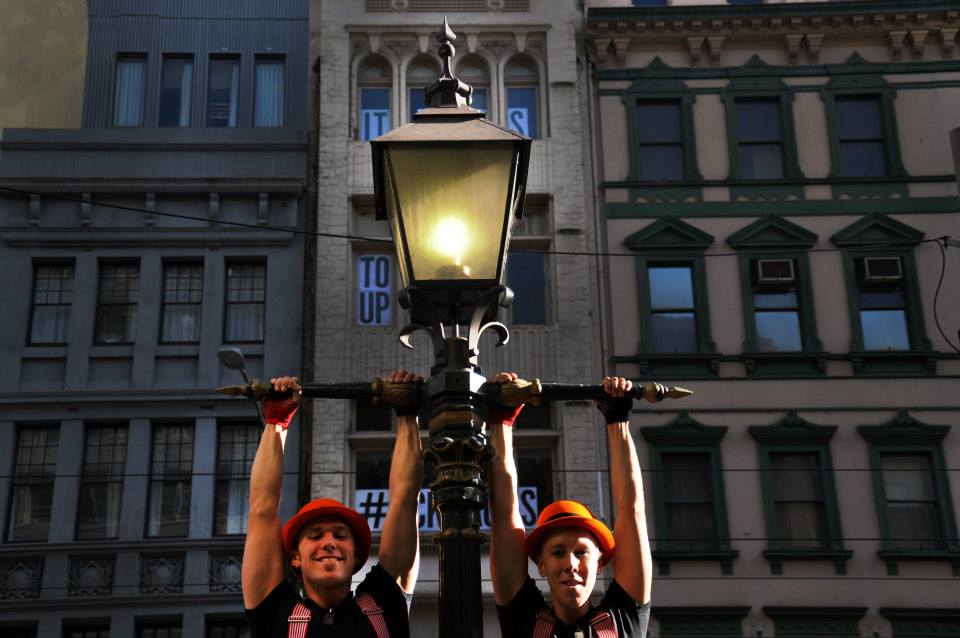 Circus & Sideshow Boylesque homegrown in Melbourne, Lamplight is the brainchild of Sebastian Edwards and Skipp Christiansen. Lamplight Circus will be showcasing their talents at the Sunday Night Queerbaret.
Sebastian Edwards
Sebastian has spent the past eleven years travelling up and down Australia's east coast training in the circus. Primarily a character based performer, Sebastian works in clown, MC, boylesque, acrobalance, object manipulation, stilts, sideshow and aerial arts.
He has worked festivals, nightclubs and burlesque houses across the country, and his training includes such illustrious companies as Circus Oz, NICA, C!RCA and Zen Zen Zo.
Sebastian is a consummate entertainer, proven to please crowds with both skill-based wonders and feats of danger.
Skipp Christiansen 'aka' The Gravity Warrior

Skipp has trained as a juggler since the age of 14 developing world class technical and performance abilities. While attending master classes with Marco Poaletti in Sydney he was inspired to specialise in ball juggling and has since created an individual style and flair. He completed his Bachelor of Arts acting for stage and screen at Charles Sturt University where he further explored his love of live entertainment. After working in Sydney as a screen actor he ran away to join the circus and since coming to Melbourne in 2012 has co-founded "Lamplight Circus" with Sebastian Edwards and trained with some of Melbourne most talented circus practitioners, including full time training with the acclaimed Spin Circus Academy. Since coming to Melbourne Skipp has branched out into the specialties of Side show, acro-balance, hand balance and tumbling, working to become a circus unto himself. With acts ranging from high energy juggling and death defying balance to jaw dropping side show stunts and high level acrobatics, whether he is balancing a flaming scythe on his face, supporting himself with one arm, lighting up a room with electricity flowing through his body or keeping 6 objects aloft Skipp is a highly skilled showman and definitely one to watch out for.