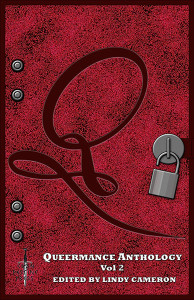 It's been a long time in the making, we can finally reveal the stories and authors who will be published in this year's Queermance Anthology. In alphabetical order (by story title) they are:
First Kiss – JJ Carroll
Better with Bacon – Matthew Lang
Birds – Lou Kohler
Coffee & Kisses – JFR Coates
A Daddy for Muffin – Beck Mitchell
Hard Feelings – Renae Kaye
Jess – May Wilson
The Birthday Present – NM Harris
Nettles & Lillies – Marion Adams
Purple Forever – Scott Thornby
Rosellas in Flight – Nicole Field
Shattered Lives – EE Montgomery
The Girl from TGI Fridays – Dominica Malcolm
The Instructor – Victoria Brown
Waiting – Isabelle Rowan
The Anthology will officially be launched on Friday night. Come along to grab a copy, hear readings from the Anthology stories and listen to some light entertainment courtesy of the RMIT Occasional Choral Society.
The launch is a free event, but remember that festival pass sales close in a couple of days, so book your tickets now.