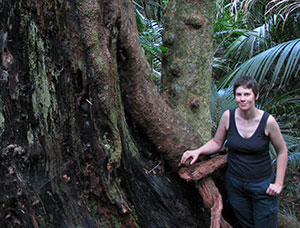 Hespa stopped writing fiction when she was 19, which is the same age she figured out she was asexual. Coincidence? Absolutely.
She remains an avid reader and, for the last six years, has helped run the annual Continuum speculative fiction convention. This included creating, hosting and participating in a series of discussion groups called 'We Do This Stuff So You Can Write About It', where writers can listen to and discuss the experiences of people with a diverse range of unusual jobs, hobbies, conditions, and locations on the gender and sexuality spectrums. She quite enjoys talking about asexuality with people who are willing to listen.
By day she is a park ranger, which involves knowing a surprising amount about sex, but mostly only plant sex.
Hespa will be appearing on our A is for Asexual: Queer Identities panel. She is also our amazing Stage Manager for the Saturday night Queerbaret.